Automotive repair in New Bedford
Tony's Auto Body est 1985
In 1985, a gallon of gas averaged $1.12, the average cost of a new car was $10,250, "The Goonies" mesmerized movie audiences, the Cold War finally ended, Mike Tyson turns Pro at the age of 18, The NES (Nintendo Entertainment System) was released in North America — and Tony's Auto Body began Automotive Repair in New Bedford and rehabbing vehicles.
After we reinvented in 2019 during the pandemic, many things have changed, notably vehicle manufacturing and the technology used maintain their usefulness and looks. Tony's Auto Body has always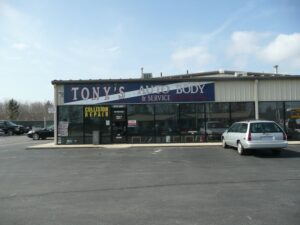 prioritized industry education and superior quality work ethics to ensure that every single job we do exceeds customer satisfaction. Specifically, our business continually invests in the latest in automotive repair equipment as well as staff training and the latest certifications.
Tony's Auto Full Services Center also provides:
Insurance claims assistance
Accident towing
Rental car assistance
FREE pick-up and drop-off service within the area
A written lifetime warranty on craftsmanship for any work that we
perform on your vehicle for as long as you own your vehicle.
CALL US NOW AT 508-998-7501